AMCOL International (NYSE: ACO) Holds Annual Shareholders Meeting and Announces Quarterly Dividend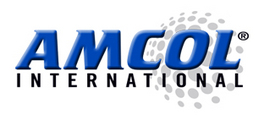 HOFFMAN ESTATES, IL -- (Marketwire) -- 05/10/12 -- AMCOL International Corporation (NYSE: ACO) held its Annual Shareholders Meeting today. All Class II Directors were re-elected for a three-year term. The Class II Directors are: Daniel P. Casey, Ryan F. McKendrick, Frederick J. Palenksy, Ph. D., and Dale E. Stahl. In addition, the shareholders ratified the Audit Committee's appointment of Ernst & Young and approved the advisory resolution on executive compensation.
The Board of Directors has declared a quarterly dividend of $0.18 a share for the second quarter of 2012. The dividend is payable on July 11, 2012, to shareholders of record as of May 30, 2012.
Headquartered in Hoffman Estates, Illinois, AMCOL has five reporting segments: Minerals and Materials, Environmental, Oilfield Services, Transportation and Corporate. The Minerals and Materials segment produces and markets specialty minerals and related materials used as a performance additive in industrial goods and consumer products. The Environmental segment manufactures and markets engineered materials used in, and provides related services for, construction, waste containment and civil infrastructure applications. The Oilfield Services segment provides the oil and gas industry with water treatment and related services. AMCOL's common stock is traded on the New York Stock Exchange under the symbol "ACO." The Company's website is www.amcol.com.

Contact:
Don Pearson
847.851.1500








Copyright @ Marketwire